The relationship between art and design is magical. Interior design is not just about aesthetics. It creates a space that is tailored to the function, quality and lifestyle that the client is looking for. By integrating fine art in the design concept, an excellent artwork will invigorate a room with a fresh new perspective. It can establish itself as a focal point, define a colour palette or even set the theme of the space.
Below is our list of top 5 interior designers in Singapore who we think are imaginative, inspiring and intelligent.
Elliot James Interiors
Founded in 2012 by Elliot Barratt, Elliot James Interiors is an award winning British interior design and furniture company. Recognized for his timeless contemporary interiors, Elliot's works boast a seamless integration of fine art and design. He transforms spaces that reflect the client's personality and lifestyle from concept to completion. Elliot is a true designer in every sense; he produces unique luxury home design for both private and development properties that exude elegance, opulence and style.
Image Credit: Elliot James (http://www.elliotjames.com)
Designed Design Associates
Established in 1997, the boutique interior design firm has an impressive portfolio that includes commercial projects, modern home interior design and private residential homes. Their interior designers have impeccable taste and intuition. By carefully selecting artworks that complement their design concept, they re-define a space that projects a sense of balance and decadence.
DDA provides a holistic range of services including space planning, design conceptualization, project construction and management. Catering to clients from regional countries such as Singapore, Kuala Lumpur, Indonesia and the Philippines, major works include Bistro at the Supreme Court, Keck Seng Tower and the Metrojaya Group of Stores.
Image Credit: Designed Design Associates (http://www.dda.com.sg)
Mr Shopper Studio
By harnessing their creative power and imagination, Mr Shopper Studio helps their clients create stunning homes within budget. Their designers have unparalleled experience in transforming HDB flats that are simple yet chic. As far as furnishing and renovation and concerned, they have the perfect expertise to source materials from the right craftsmen to integrate into their design vision. Their success is a result from a very talented team who work closely with clients to deliver an exemplary service within budget and on time.
Image Credit: Mr Shopper Studio (http://www.mrshopperstudio.com)
Ark-chitecture
Ark-hitecture is a one-stop boutique agency that offers fully integrated services, encompassing the entire process – from design and consultation to project management and construction. Their designers play with a multiplicity of repertoires, never sticking to a single style, ranging from contemporary to Scandinavian. They create an atmosphere that excites and provokes, making a dream come true.
Image Credit : Ark-chitecture (http://ark-hitecture.com.sg)
Takenouchi Webb
The design genius behind the exquisite interior of The White Rabbit and The Black Swan, British architect Marc Webb and Japanese interior designer Naoko Takenouchi creates timeless spaces with epic proportions. The studio believes in a holistic approach to design, developing the architecture, interior and furniture for each project. Their design approach is a carefully considered combination of materials, detailing and precision combined with practical problem solving unique to each project. Takenouchi Webb is absolutely committed to each project regardless of the size; each work is a product of their passion and expertise.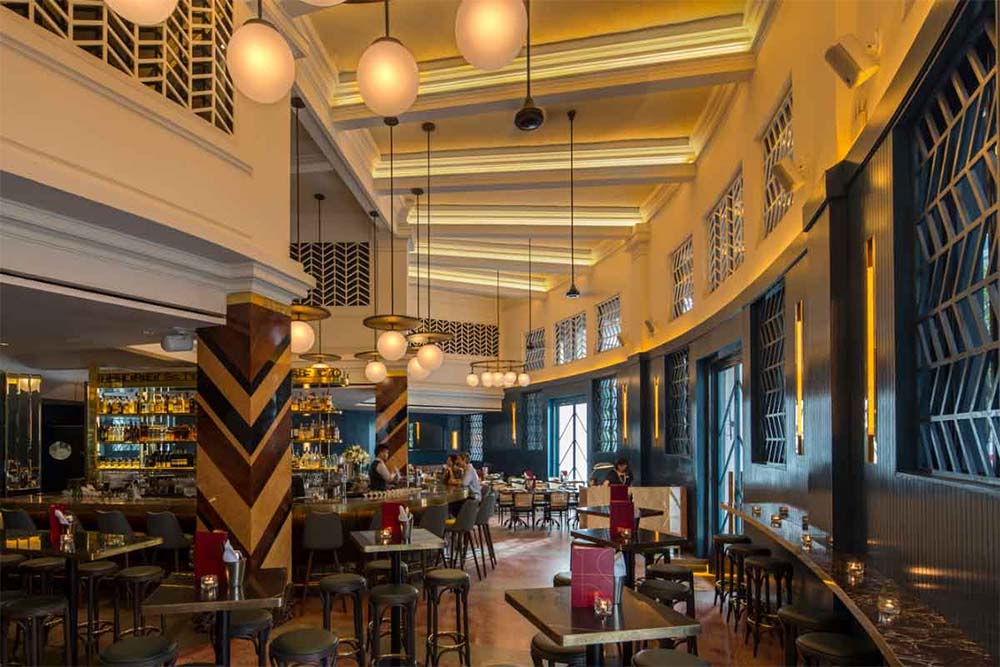 Image Credit: Takenouchi Webb (http://www.takenouchiwebb.com)