Jiang Zhaojin (Wanlin)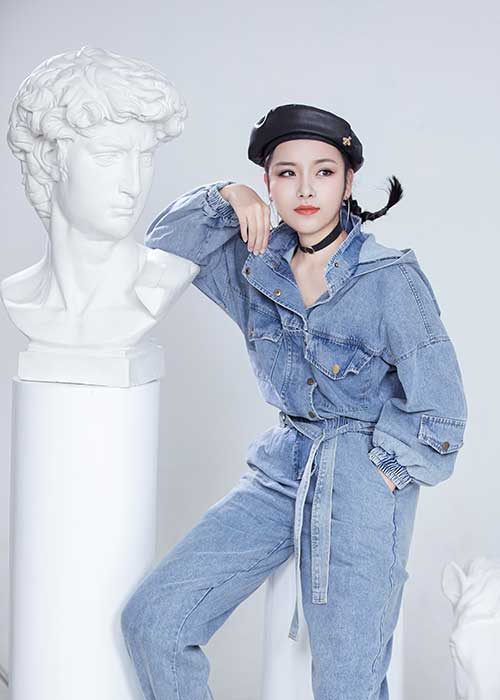 Jiang Zhaojin (Wanlin) is a Chinese artist who lives and works in Beijing.
Indigo-hued denim is her chosen medium, with which she creates intricate artwork so precisely executed they resemble traditional Chinese ink paintings. Beyond the aesthetic qualities of her works, Jiang transformed the traditional presentation to something direct and perhaps more digestible style of communication of the ancient art – Chinese landscape painting (shanshui).
Denim as a fabric has a long history, originally registered as a patent back in 1873, denim jeans have now become a universal symbol of both utilitarian sturdiness and stylishness for rebels and fashionistas alike. It represents a modern style that transcends usage, age and class.
Interestingly the essence of shanshui possesses similar qualities. Unlike the Western Plein Air painting, Shanshui goes against the common definition of what a painting is. It refutes colour, light and shadow and personal brush work, it's a reflection or interpretation of one's own understanding of the scenery. Shanshui painting is not an open window for the viewer's eye, not an "copy" of the scenery, it is an object for the viewer's mind and a philosophy of life. Just like the denim jeans that is a vehicle of liberation, it eliminates the boundaries between the rich and the poor.
With her well-rounded understanding of the fundamental values of traditional shanshui, Jiang injects a modern approach that is re-envisioning the relationship between the old and the new. Her work channels a bridge between traditional art with the contemporary world, she incorporates materials that represent current society; she takes advantage of the familiarity led the viewers to form an immediate connection with the art.
Jian is a big believer in sustainability, and has worked with many major brands such as New Balance, and Levi's on this topic. She has been constantly finding new, creative ways to make art that can benefit the environment, whether that is by using accessible and reused materials, or inspiring and creating social awareness on such topics.