There is no shortage of excellent framing shops and independent frame makers in Singapore. As an operating art gallery, and having lived here for over 10 years, we hopefully have a pretty good idea of the best options around for framing all kinds of items for the home, office or gallery setting
FrameIT
If you're looking for quality frames for posters, prints, and photographs then FrameIT could be the perfect fit. The concept is completely online, so you can build your frame, pay online, and have it shipped to your door to exact custom measurements. Once the frame arrives, you'll mount your item and away you go. We have found the process simple, and the quality is excellent. The added benefit is that the frames can be re-used over time as the backing is easily extracted, so if you like to alter photographs or posters, but typically leverage standard sizes, then this would make it a lot more cost-sensitive over the long run.
You simply need to measure your item [height and width] and the online builder can then figure out all the necessary measurements of your frame. You'll be able to choose from some standard frame styles and widths, play around with mat border styles and then pay online. From order to delivery is around 4-5 days.
Website: https://frameit.com.sg
Merlin Frame Maker
With 3 outlets across Singapore, Merlin Frame Maker is the largest custom frame maker in Singapore. They have outlets located at River Valley, Waterloo Centre, and Paragon Orchard. They have around 600+ unique frames and will guide you through a wide array of options to match any creative flair you might have.
Merlin Frame Maker is a very professional operation – they have over 20 employees, 3 outlets and a 6,000 sqft workshop with all the bells and whistles. The owner has a genuine passion and love for fine art and this is reflected in the quality of the materials and workmanship on show.
Convenience, quality and professionalism tend to come at a slightly higher cost than the traditional roadside framing shops, but we personally refer the vast majority of our clients directly to Merlin because we trust them to deliver. For cheaper items such as posters and prints, you may wish to consider other options.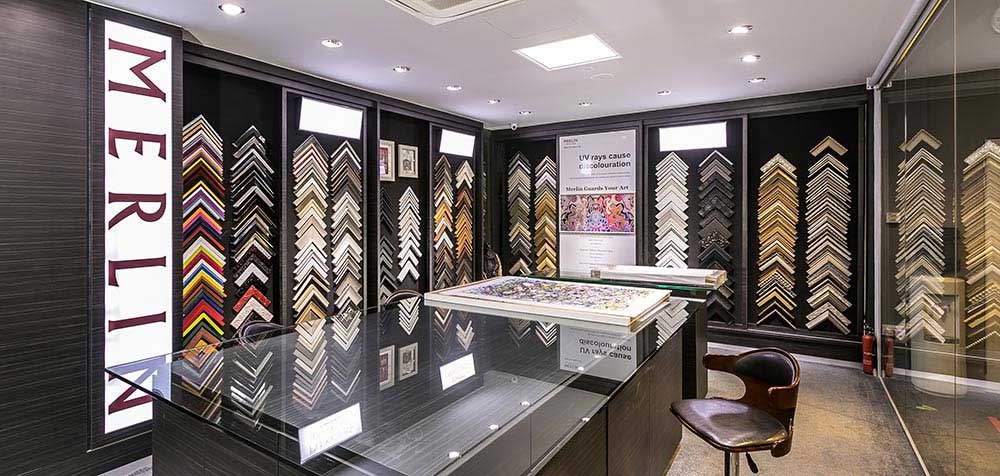 Contact: +65 6735 1866
Website: https://merlin.com.sg
Arts in Mind
Having started as a one-man band, Arts in Mind has quickly grown through excellent customer service, good old hard work, and top quality framing solutions. We have used Naz (owner of Arts in Mind) for many years and have never been disappointed, so it came as no surprise to us when he continued to grow his business and expand into new opportunities including art storage and installation.
Arts in Mind will do home/office pickup, consultation, framing and delivery which makes them a highly convenient option. The one downside is that they have no fixed location to view the frames themselves, but if you looking for canvas stretching or basic frame finishes like simple black/white etc, then they are a great option to deal with over email or phone.
This beautiful work by Wang Yunchong was stretched on canvas by Arts in Mind, including pick-up and delivery.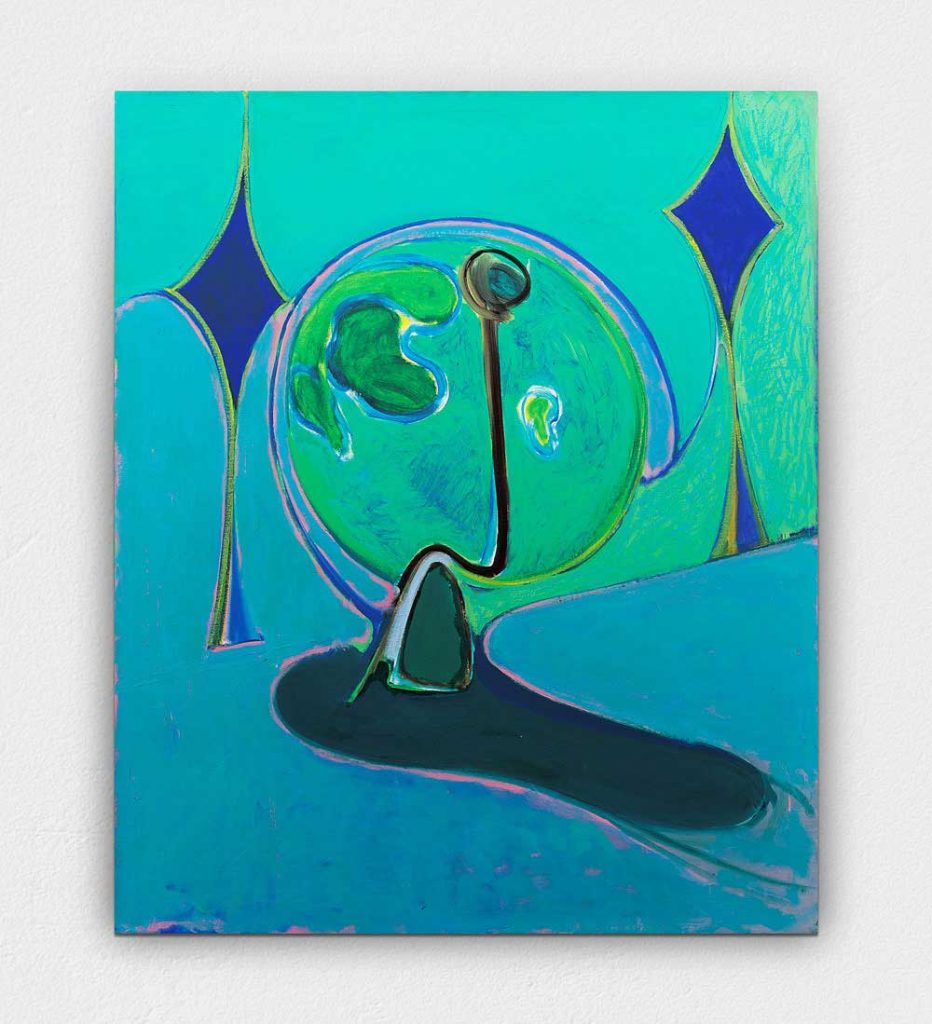 Contact: +65 6635 1900
Website: http://artsinmind.asia/
Jimmy Tan – CallMeFrame
Next up is one of our favourite independent frame makers 'Jimmy' who runs Call Me Frame. As an independent frame maker he doesn't have a walk-in shop, so tends to rely on a more personalized service that involves pick-up and drop-off services. Jimmy tends to rely on word-of-mouth, servicing a lot of repeat customers and art galleries.
If you aren't too bothered about walking into a physical store, then Jimmy is a good option as he'll be able to consult with you on framing solutions and handle all the logistics.
This beautiful U Lun Gywe was stretched on canvas and framed by Jimmy Tan.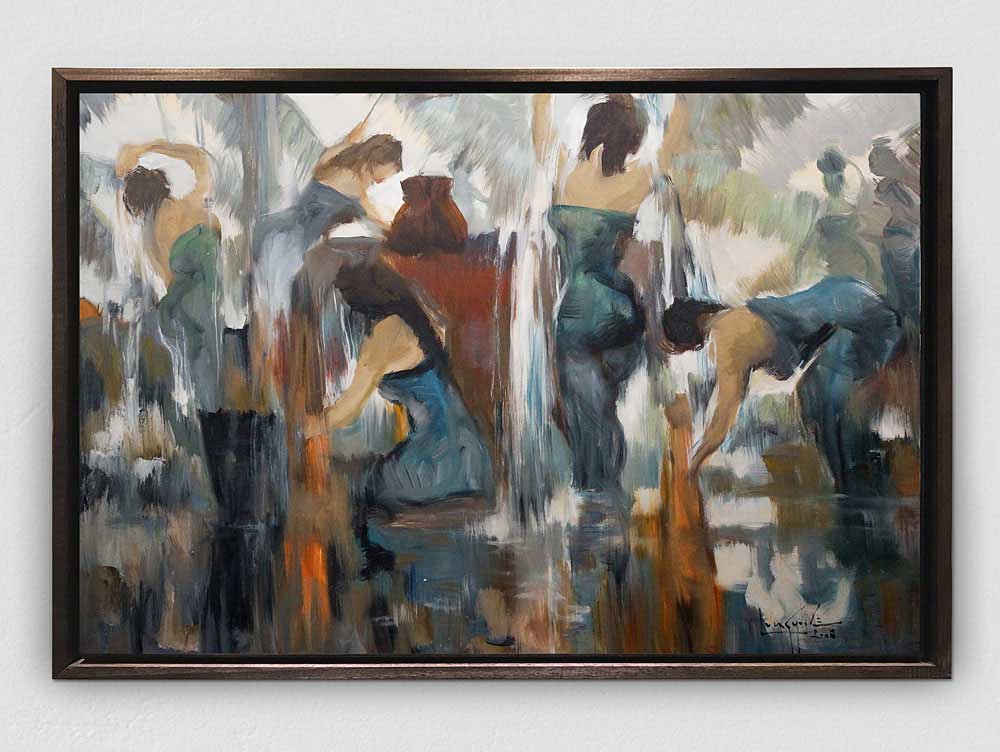 Contact: +65 9668 8097
Q Framing
Located on Hillview Avenue in Bukit Batok, Q Framing is focused more towards the top end of the market. They provide an excellent framing service to fine art collectors, galleries, and private individuals.
Based on our experience they have a good understanding of framing photography works and doing it in such a way to reduce any risk of damage to the works caused by the Singapore weather. The downside is probably a lack of convenient locations to drop-off work or view their frame options.
Similar to Merlin Frame Maker, you should probably consider other options for cheaper works such as posters and prints. The beautiful photograph by Russel Wong was framed by Q Framing.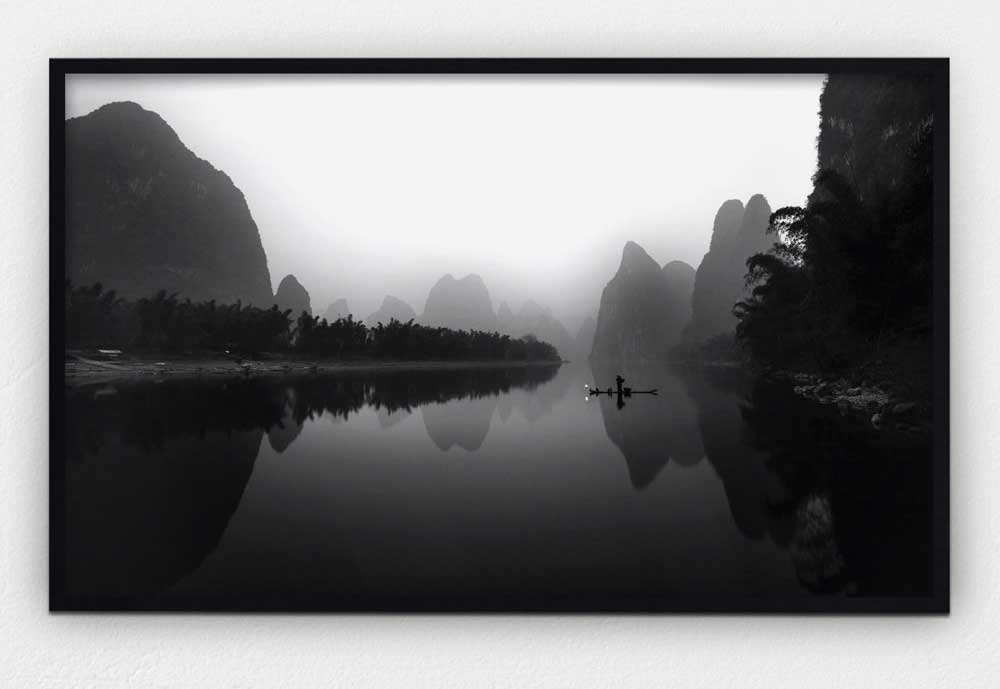 Contact: +65 6299 4180
Website: http://qframing.com.sg/
Ittibaa Glazing Enterprise Pte Ltd
For cheaper, general canvas stretching and framing you may wish to consider Ittibaa Glazing, located on Boon Keng road and opposite the MRT of the same name. Its a fairly typical roadside framers in Singapore with a solid range of frame types and styles, good pricing and pretty consistent service.
Probably not the right option if you are framing items of genuine monetary or sentimental value. They are a nice, hard-working group, but the location and condition of the outlet mean we tended to get dust and fluff stuck to some of our items. If framing more expensive items, then go with Merlin or Q Framing.
Contact: +65 6298 2281
Website: http://www.framesandglass.com/
Barakkath Frame Maker
Similar to Ittibaa, Barakkath Frame Maker offers cost-sensitive framing options with a physical shop located on South Bridge Road, near Chinatown. We haven't leveraged Barakkath for work purposes, but we've been using them recently for some basic framing of kids paintings, and the results were cost-sensitive and decent enough quality.
Contact: +65 6223 3027
Website: http://barakkathframes.com/